65th Annual Vista Christmas Parade
'Tis the season to be jolly, and what better way to kick off the holiday festivities than by attending the Vista Christmas Parade? This year's parade promises to be extra special as it celebrates not only the magic of Christmas but also the centennial anniversary of the Vista Chamber of Commerce. Set to take place on Saturday, December 2nd, starting at 1 pm, the 2023 Vista Christmas Parade is themed 'Viva Vista,' paying homage to a century of community strength and resilience.
The Vista Christmas Parade is not just an opportunity to celebrate the holiday season; it's a chance for the community to come together and connect. Local businesses, schools, and civic organizations will be an integral part of the parade, demonstrating the unity that makes Vista such a special place.
The Vista Christmas Parade will wind its way through the heart of downtown Vista, showcasing this beautiful location in town. The Christmas Parade will start at the Wave Waterpark, go through Main Street, turn right on Citrus, right on Broadway, left on S Santa Fe and finish at the roundabout on Pala Vista. This extensive route ensures that everyone has a prime viewing spot to enjoy the festivities.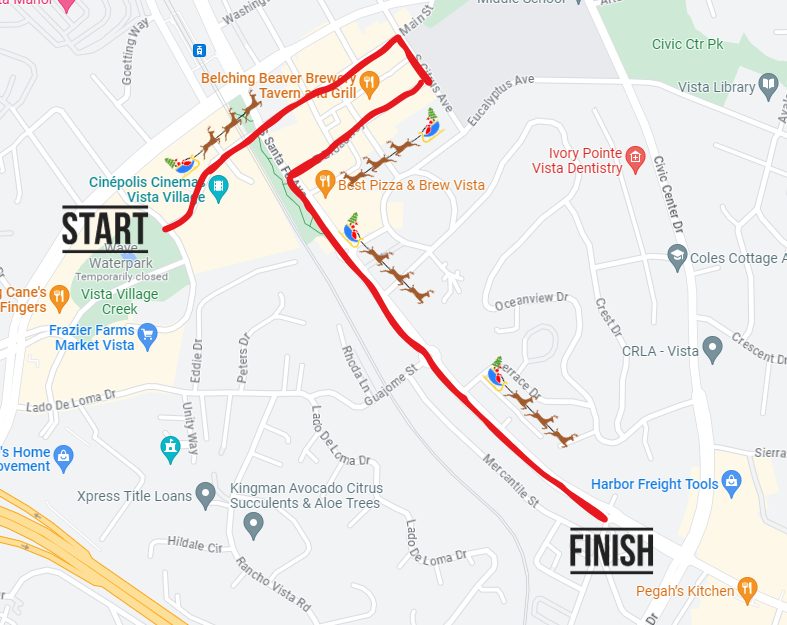 When the Vista Chamber Board hosted their first Board Meeting on June 13, 1923, the group agreed that the first order of business was to create a slogan contest to brand the community. Later that summer, Mr. EA Marsh won $20 for offering the winning slogan of Viva Vista! Since then the Chamber has been instrumental in defining and/or amplifying the identity of Vista. Other Vista themes over the years have included Climatic Wonderland, Strawberry Capitol, Vista Made, and Vista Beer.
A Century of Chamber Excellence
For 100 years, the Vista Chamber of Commerce has been a pillar of support for local businesses and the community at large. Their dedication to fostering economic growth and nurturing community bonds has made them an integral part of Vista's history. The 'Viva Vista' theme is a testament to the chamber's unwavering commitment and the enduring spirit of the city.
The Vista Christmas Parade is completely free for everyone to enjoy, so bring out your whole family to enjoy this start to the holiday festivities in Vista. Although the parade starts at 1pm, we recommend attendees arrive early to secure a good spot and enjoy all the amazing floats. Afterwards, families are invited to stay in the Downtown Vista area to visit the different varieties of restaurants, coffee shops, retail shops and maybe some ice cream if the weather allows. We hope you join us!