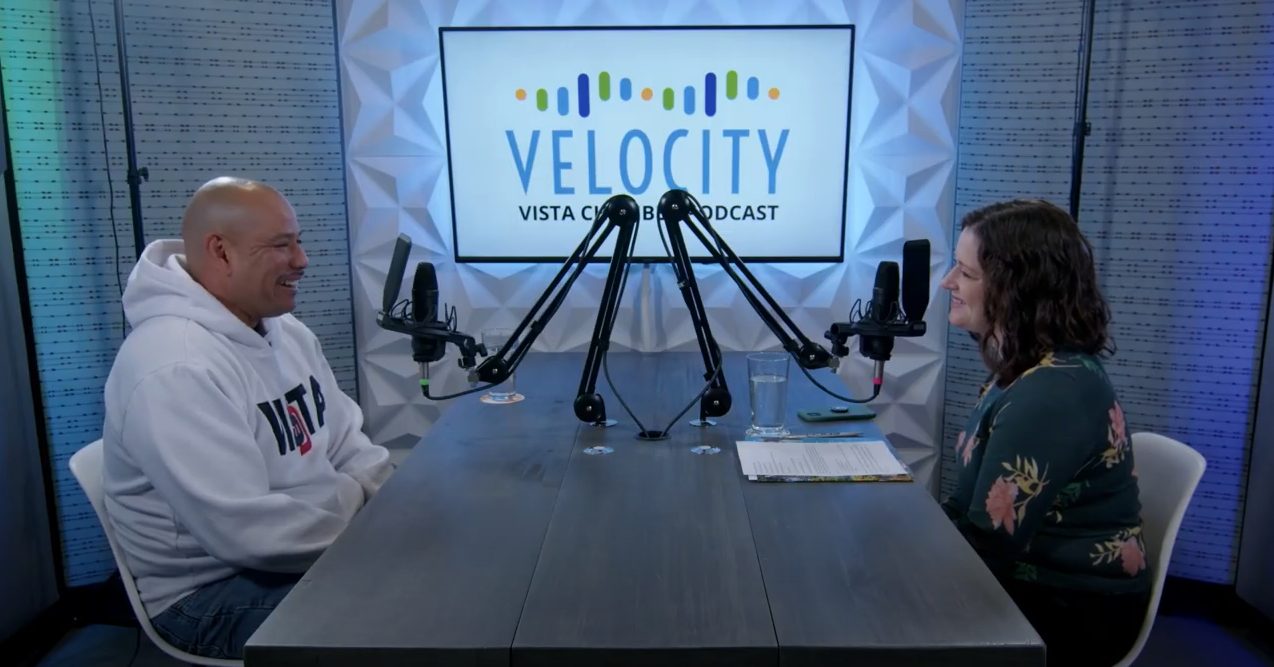 Exploring Community Impact Through Velocity, Vista Chamber Podcast
It seems like podcasts have been taking over these past couple of years and you know the Vista Chamber could not be the exception. So what is this Vista Podcast and why is it important for Vista residents to tune in?
In the ever-evolving landscape of community engagement and information dissemination, podcasts have emerged as a powerful medium, bridging gaps, and fostering connections between individuals and their communities. Among these dynamic podcasts is the "Velocity, Vista Chamber Podcast," led by Vista Chamber CEO Rachel Beld. With its insightful discussions, the show amplifies the voices and stories of business owners, government officials, and local influencers who have significantly shaped the vibrant Vista community.
In today's fast-paced world, the relevance of podcasts as a communication tool cannot be overstated. With younger generations stirring away from traditional media and most people leading busy lives, podcasts are many times the preferred source of information/entertainment for many. One of people's favorite things about podcasts is how accessible they've become, being able to access them on streaming platforms like Spotify, Apple Music, YouTube, etc. Although many podcasts, including Velocity, have a video aspect to it, its main attraction is that people don't need to be looking at a screen which opens them to listen to their favorite podcast while driving, cooking, getting ready, or going through their day-to-day activities.
The podcast's host, Rachel Beld, plays a pivotal role in making "Velocity" a platform that not only informs but also inspires. With her leadership at the Vista Chamber of Commerce, Rachel has crafted a space where community leaders and entrepreneurs share their insights, experiences, and visions for Vista's future. Many times Rachel has a previous relationship and even close friendships with her guests, which often times creates a relaxed environment for guests and listeners.
Rachel has held the title of CEO at the Vista Chamber for over four years and before that had been part of the City of Vista's Economic Development Department which has led to her becoming a well-respected figure in the community. With her immense connections in Vista, it was a no brainer for Rachel to become the host of Velocity, highlighting everything and everyone working towards making Vista a great community.
The significance of "Velocity, Vista Chamber Podcast" extends beyond its informative value. It acts as a unifying force, bringing together stakeholders from various sectors, encouraging collaboration, and sparking conversations that are vital for the continued growth and prosperity of Vista. Guests on Velocity range from business owners to leaders in various organizations to elected officials. All these share their stories of success, how their work has changed their lives, what led them to do what they do now, and what they contribute and hope for Vista's future.
At the end of each episode, Rachel asks guests to answer some quick rapid-fire questions. Guests are asked to share their favorite book, a song that always gets them going, what inspires them in life, and a Vista business they would like to highlight. This is an amazing way to end each episode as it shows listeners a more human aspect to the guests and maybe they will discover their new favorite song. The guests' answers about a Vista business to highlight is also taken into consideration for choosing upcoming interviews.
With 42 episodes out at the time of this post, you've got a lot of catching up to do but do not worry because we've got you covered. Velocity, Vista Chamber Podcast is available on all your favorite streaming platforms, you can easily use the links below to listen.