State of the Community 2022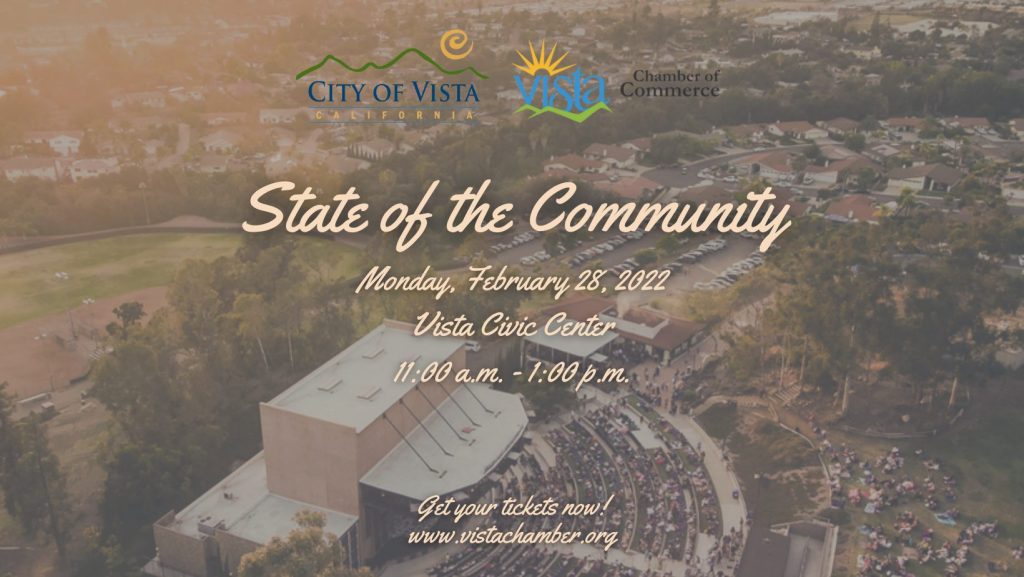 The Vista Chamber presents the annual State of the Community Luncheon on Monday, February 28, 2022 at the Vista Civic Center.
Our Keynote Speaker will be Mayor Judy Ritter, on her last year as Mayor of the City of Vista.
Other distinguished guest speakers include:
Aaron Byzak, Chief External Affairs Officer at Tri-City Medical Center
Dr. Matt Doyle, VUSD Superintendent
Adam Brooks, Chair of the Board at the Vista Chamber of Commerce; and
Lev Gershman, Founder and Managing Partner of Tideline Partners, who will tell us about the importance of investing in Vista.
Tri-City Medical Center will be our presenting sponsor.
Lunch is from 11:00am to 1:00pm.
State of the Community 2021
If you enjoyed this event, please consider supporting the Vista Chamber with a donation today. Thank you!