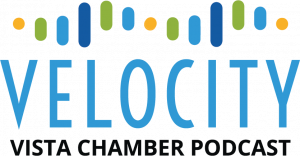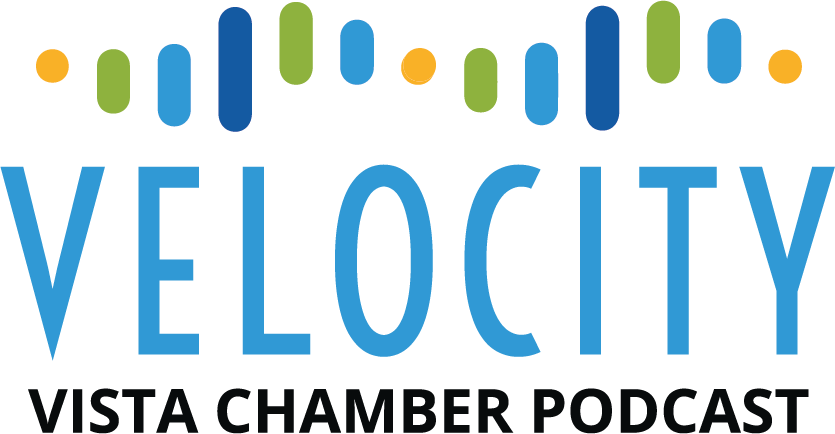 Vista Chamber of Commerce CEO Rachel Beld interviews the movers, shakers & changemakers that are moving Vista forward. New episodes every other Wednesday. Check out recent episodes below!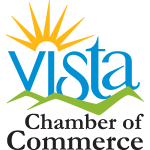 Episode 8  - COMING SOON!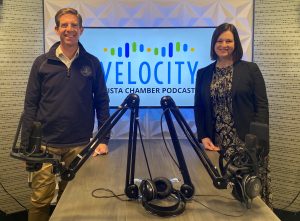 Congressman Mike Levin represents Vista and the rest of the CA 49th District. In this episode of Velocity Rachel sits down with Congressman Levin to talk about what led him to public office, legislative priorities for the District and why democracy matters. He also shares why his work to support Veteran's opportunities is important and deeply personal. Check it out!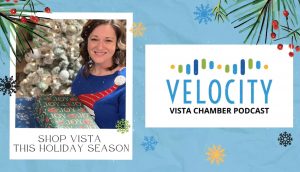 Join Rachel for this special episode highlighting Vista Chamber Members with a shop Vista holiday guide, non-profits to support, and a run down of local holiday events.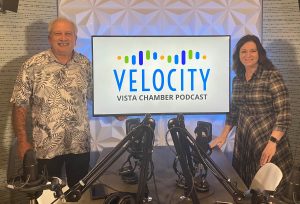 Peppertree Frosty is a Vista institution. The Villaseñor family has been serving up tasty treats and savory snacks out of this charming snack shack since the 1950s. Join Rachel and Peppertree owner Danny Villaseñor for a conversation about Peppertree's iconic menu (it's HUGE!) and learn Danny's favorite item. Danny also shares the family's connection to the Vista community, inspiring the workforce of the future, and why he is deeply committed to the Boys & Girls Club of Vista.  There are some insights into Vista history, as well! Kick back and dig into this sweet conversation. Peppertree Frosty feels like home.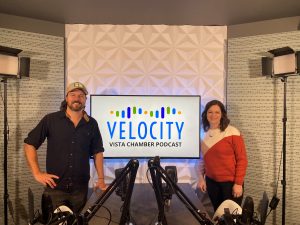 In this episode of Velocity, Rachel is joined by Whit Rigali, co-founder of Misadventure & Company. Whit and his business partner, Samuel Chereskin, created Misadventure Vodka, which is the world's first carbon negative consumer good and also the first and only spirit made from excess baked goods. This means every drink of Misadventure takes a stand against food waste, growing landfills, and the myth that we can't have fun while saving the world!
Join us for a thought provoking discussion about food waste, family, and the misadventures along the path to creating award-winning vodka.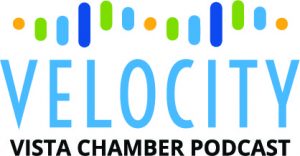 In this episode of Velocity (recorded just after school began in August), Vista Chamber CEO Rachel Beld sits down with Dr. Matt Doyle, Superintendent, Vista Unified School District. Dr. Doyle shares how he became an educator and what inspires him.
Join us for a discussion about the important work of educating students with a focus on equity, navigating the COVID-19 pandemic, connecting students to a Career Super Highway, and how local businesses can get involved.
In this episode, Rachel  enjoys a thoughtful chat with Lev Gershman, Founder & Managing Partner of Tideline Partners. Heavily invested in Downtown Vista, Lev discusses why Vista was the right choice for several projects, why art matters, and the importance of the legacy we leave behind. Join us for a thought provoking discussion about change, growth, and the Bare Necessities of life.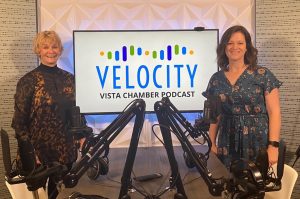 In the first-ever episode of Velocity, Vista Chamber CEO Rachel Beld sits down with Vista Mayor Judy Ritter to discuss her 23 year commitment to the City, what makes her proud, how she started in business, and what's next.  There is so much to discuss! Pour yourself a Diet Coke and settle in for a chat with Rachel & Judy.
Find us wherever you get your podcasts: